International TableTop Day
In a week or two we will have a yearly International Table Top Day! If you have never heard about it, it's something pretty awesome that our community does every year. Today I am going to take some time to write out a little primer on International Table Top Day.
International Table Top Day (ITTD) was started by the YouTube show with the same name, TableTop! In 2013, the show teamed up with local gaming stores and game publishers to bring our community together. The first ITTD was live-streamed with a lot of guests and games from the first season of TableTop. They played games all day and it was a celebration of the hobby and people who love the show. On the community side, stores were given lots of ITTD-specific promos to give out and were open for gaming. Some people refer to it as a huge boardgaming open house, which is a great way to think about it. The promos ranged from TableTop-specific characters for a lot of your favorite games. I don't know about you, but I am a sucker for a good promo. One of the more popular promos from that time was the Felicia Day survivor for Dead of Winter.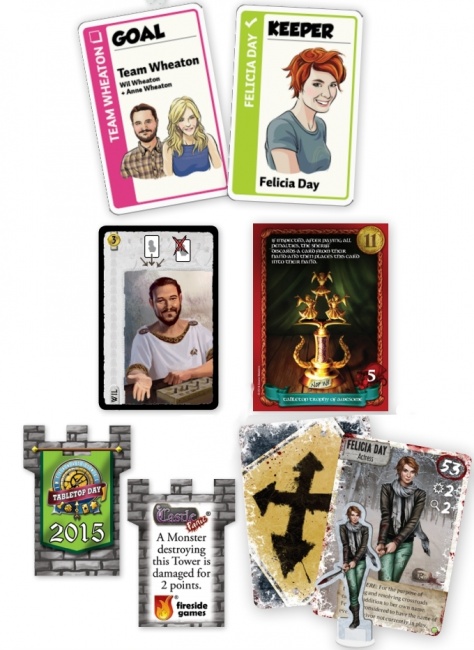 Nowadays lots of publishers have joined in and people look forward to it each year. Lots of stores are getting their inventory, employees, and tables ready for Saturday, April 29th. Expect this year to be even better than last, whether you are watching the live stream or joining the festivities at a shop or just on your own. There site has 3 ways to join in the fun. If you are a retailer you can set up an add with the TableTop site here. If you are running a community event you can use the same link to tell them when and where your event is happening. If you are wanting to stream or watch the ITTD stream, check out their Facebook page or Twitter for more info. I myself have celebrated ITTD both at a store and at home over the years, both are an extremely great reason to get out there and game.
This year if I am lucky I will be demoing Legends of Andor at my FLGS. We are also running an Android: Netrunner Terminal Directive release event! The new Netrunner expansions adds campaign play to the game cyberpunk fans love to play! The Living Card Guy will be covering it next week if you would like to know more. I hope no matter what you do you have an amazing International TableTop Day this year! What do you do on TableTop Day? Tell me in the comments and I will see you next time!
-Kyle